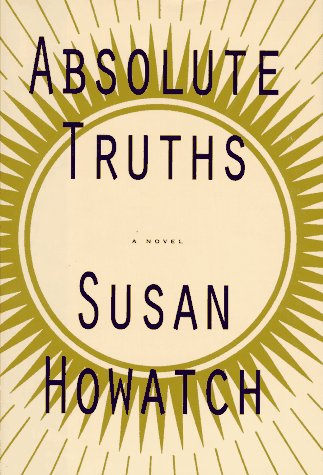 I recently posted some epigraphs from the novel Absolute Truths by Susan Howatch. In that novel most of the epigraphs come from the Anglican theologian Austin Farrer whose theology provides a historical backdrop for the novel itself. Farrer's words also serve as a foil and as a guide for the narrator in the novel. In this post, I wanted to look at a passage in the novel where the narrator, Charles Ashworth, picks up one of Farrer's book of sermons. His reading of Farrer sets off a series of connections and insights for him, and Howatch masterfully shows us how reading itself can be a creative process.
In the scene Charles begins to ruminate on a profound encounter he had recently had with a sculpture. When he was looking at the sculpture, he and the artist began to discuss the intimacy of creating, the deep emotional investment the artist makes in order to create. Later, as he remembers the scene, his mind turns to a sermon he had recently read, so he picks up a copy of Austin Farrer's sermons Said or Sung and turns to this passage on the divine creator:
"The skill of the divine potter is an infinite patience of improvisation. No sooner has one work gone awry than his fingers are pressing it into the form of another. There is never a moment for the clay, when the potter is not doing something with it. God is never standing back and watching us; his fingers are on us all the time."
After reading the passage, he begins to think of his own life, the loss of his wife and the ensuing catastrophe, and he remembers the way in which the artist had caressed her own sculpture: "When I remembered how she had caressed her sculpture, I knew I was being called to believe in a creator who never gave up, a creator who suffered alongside his creation, a creator who was driven by "an indestructible sort of fidelity," by an "insane sort of hope" and above all by the most powerful form of creative love to bring order out of chais and "make everything come right."
I love this scene because beyond being a lovely meditation on the beauty of art and the redemptive love of God, it is striking representation of the process of reading itself, of thinking along with a book. Charles has a thought that leads him to pick up Farrer's book. As he reads the sermon, he imagines himself as the ball of clay being sculpted and re-sculpted by God, which then turns his mind again to the artist and the sculpture he had recently seen. And then he ruminates more, reflects, and as he does more of Farrer's words begin to interweave with his own thoughts. What he had seen in the studio, what he now reads on the page, all interweave to affect a profound thought which helps him see his own circumstances in a new light.
By showing us the connections in Charles' own mind, Howatch invites us to reflect on the power of art and of reading itself. It's a masterful scene in a profound novel.